1/ Free mints have become a popular strategy in web3 gaming to gain initial traction and mitigate some of the concerns regarding rent-seeking behavior.
But just how effective is this approach? Let's take a closer look 🧵
2/
The dawn of web3 gaming is often compared to the rise of F2P, where the industry initially resisted its economics, but, eventually, it came around.
3/
@gabrielleydon
, known for his work at Machine Zone with Game of War: Fire Age, was part of the shift from premium to F2P games on mobile📲
He is now bringing the same "free is better" mentality over to web3 and shook the NFT world with the free DigiDaigaku NFTs drop last year
4/
Typically, the acquisition of genesis NFTs has been linked to huge upfront costs and asset speculation.
It quickly became clear that this model was not sustainable unless the game was both a major success and built for long-term sustainability – a rare combination.
5/
In theory, whitelists for free mints reward early community participants better than providing them the chance buy into a mint, often at significant costs💰
6/
However, many of these participants are still looking for opportunities to flip for profit, resulting in unwelcome behavior from both degens and bots.
7/
Let's take a look at the free mint performance of 3 popular projects: Gossamer, DigiDaigaku and Champion Ascension.
8/
(Almost) unrestricted and easy-to-get whitelist spots promote bot activity and result in a significant portion of the supply being traded post-launch…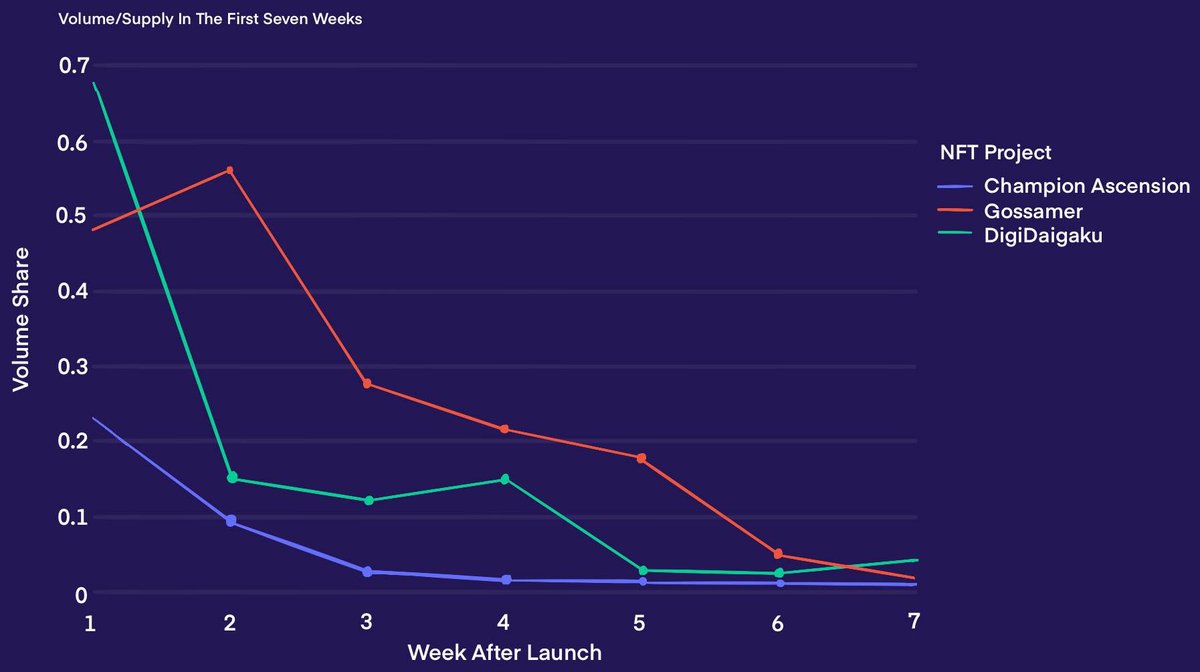 9/
…leading to an initial price spike followed by a rapid decline. Meanwhile, scarcity and hype drive up prices and create barriers to entry for new players.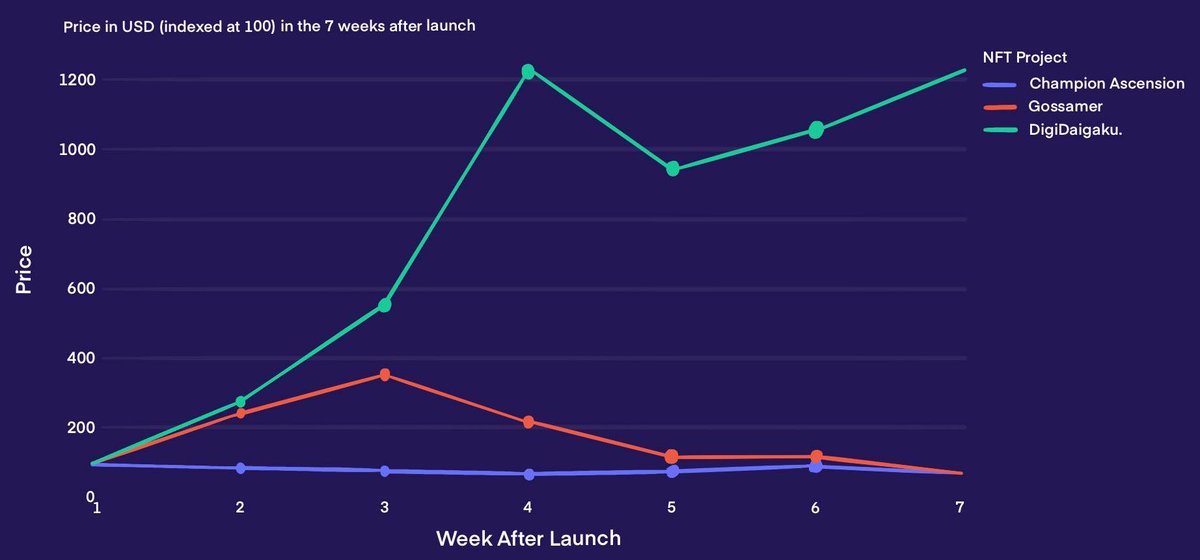 10/
Overall, giving away free NFTs can be an effective marketing strategy and can alleviate concerns regarding behavior geared towards maximizing ROI.
11/
One potential solution could be to allow claiming of a limited number of free copies of an NFT, but delaying the actual mint until they are available for primary sale to the public
12/
This approach encourages fair competition and prevents speculative pricing, while still giving participants a free NFT🎁
13/
Rather than artificially limiting the supply of NFTs, the value should be derived from the game activity the NFTs are associated with.
14/
Free mints also mean that developers have no financial obligations to their community members, allowing them to focus entirely on creating a fun game that offers maximum value.